Summer Theatre Camp and Youth Classes
Dreamcatcher Junior Classes
School Year Classes for Kids grades 5-12
​
This fall, we're offering two new classes for our DRT JR

students. Improv and Playwriting classes in sessions of eight weeks each will provide a deeper dive into the skills used in the summer program and beyond. The two classes can be taken together or independently, depending on the students' interests and schedules.
​
We are planning to hold these classes in person at the Oakes Center, but will be responsive to any new directives from the state on gathering. The class sizes will be small, and social distancing and masking will be observed. Please see our detailed guidelines below.
Playwriting with Laura Ekstrand
If you're longing to develop your dramatic writing skills, this class will focus on using dialogue, character, theme and plot to bring your ideas to life! You will write your own short play while helping your classmates to create their own. Come ready to explore!
​
Laura Ekstrand is the Artistic Director of Dreamcatcher, and is the author of several plays, musicals, adaptations and comedy sketches. Her plays have been produced and read throughout the metropolitan area; she is also an actor and director, and is a member of AEA, SAG-AFTRA and the Dramatists Guild.
​
Dates: September 29 - November 24, 2020
(No class on Election Day)
Hours: Tuesday, 6 pm - 7:30 pm
Location: Oakes Center in Summit.
Tuition: $210
​
​
Improv with Lulu French
Learn improv through games and exercises that focus on skills such as agreement, teamwork, character creation, emotional work, object/environment work, confidence, and presentational skills. A great way to unlock your creativity!
​
Lulu French has been an improv instructor since 2000 and has had the privilege to teach for organizations such as Gotham City Improv, The Queens Theater in the Park, Arts Horizons, The Theater Project, The South Orange Maplewood Adult School, IN Studios, Beyond the Bell, and Dreamcatcher Rep.
​
Dates: October 3 - November 21, 2020
Hours: Saturday, 2:15 pm - 4:15 pm
Location: Oakes Center in Summit.
Tuition: $280
​
Deadline:

Sunday, September 20 or when class is full.
​
Withdrawal and Refunds:
Should you find it necessary to withdraw your child, the following refund schedule will apply:
​
Withdrawal on or before September 10 80% refund
Withdrawal September 10 - 20 50% refund
​
No refund for withdrawal after September 20.
$30 is charged for any returned checks.
​
Dreamcatcher Junior
Summer Theatre Camp for Kids grades 5-12
​
We are ready to move forward with plans for Dreamcatcher Junior! Based on the New Jersey State health guidelines, day camps will be allowed to open in person on July 6. Things will be different, no doubt, but we will retain the same creative and collaborative spirit the program is built upon.
In planning for Dreamcatcher Junior, it is our primary priority to keep our students and teachers safe while providing a lively and joyful experience. As guidance from the state becomes more specific, we will adapt our practices to comply.
We will be holding a hybrid in-person/virtual day, with the hours of 9-12 held together in Summit, followed by an hour-long lunch and travel break. From 1-3, students will meet online as a group and in smaller work groups as they brainstorm and create their original script.
Unfortunately, gathering families to watch an in-person final performance will not be possible at the end of July. Our final presentation will be a video, written, produced and created by the DRT JR ensemble and debuted on the evening of July 24 at 7 pm.
As a baseline, our guidelines for our in-person morning session include:
Maintaining small group size

Keeping six feet or more between participants

Taking some activities outdoors, weather permitting

Requiring students and staff to wear masks unless otherwise indicated

No masks will be required outdoors with distancing in place

More than six feet distance will be required when singing if masks are off

Taking temperatures of all participants daily; anyone with a temperature over 100.4 will be sent home

Cutting dance classes, though perhaps other specialty workshops will replace them

Limiting sharing of supplies

Using the theatre (now air conditioned!) rather than the lobby when indoors, so safe distance can be maintained

Staggering bathroom use to prevent lines

Prohibiting use of water fountains

Providing hand sanitizer

Disinfecting high touch points at beginning and end of day
​
Dreamcatcher Junior is a three-week theatre experience in Summit, NJ. It combines building skills through study with theatre professionals in a variety of subjects with the opportunity for students to create and perform their own play.
At DRT JR, we believe in having fun while developing real skills under the guidance of professionals. DRT JR is an enjoyable way for students in grades 5 through 12 to explore their interest in the performing arts during their summer vacation. Students receive individual attention, constructive feedback, and the support needed to achieve their personal goals.
In the first week, the ensemble begins to come together through classes and workshops in acting, improv, playwriting, singing and movement. These and other skills will be explored as the group builds the foundation for their creative process.
The second week focuses on the development and writing of an original play, which will also include music and movement. Students have the opportunity to shape their own characters and performances, which might include new subjects explored in the first week such as stage combat and physical comedy.
In the third week, the cast and their director, musical director and choreographer hone and refine their original work in preparation for its presentation on the final evening of the program.
Check out photos of recent summers!
STC 2015
STC 2015
STC 2015
STC 2015
STC 2015
STC 2015
STC 2015
STC 2015
STC 2015
STC 2015
STC 2015
STC 2015
STC 2015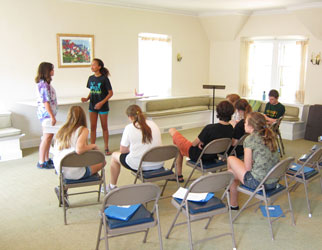 Students study acting technique in week 1.
In scene study, students analyze scripts and develop characters.
Stage combat is one our most popular specialty classes in week 1.
Clowning is sometimes another specialty in week 1.
Students work on vocal technique in week 2.
In weeks 2, 3 & 4 students get individual coaching in individual sessions with vocal instructors.
In week 2 students learn choreography and how to perform as an ensemble.
All singers, from the experienced to the novice, learn valuable techniques in voice class while having a great time!
Weeks 1 and 2 end with a workshop performance that highlights the skills that were learned each week.
Kids are encouraged to perform solos or in groups.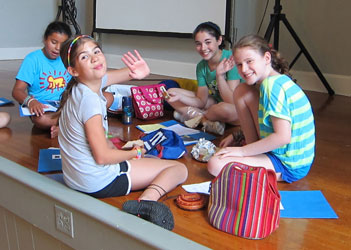 At lunchtime students are free to spread out and relax in the air-conditioned theater or outside on the grounds.
There are plenty of peaceful shaded places for kids to enjoy their lunch.
Students are sometimes grouped by age and experience.
Our non-competitive atmosphere fosters friendship and camaraderie.
In weeks 3 & 4, students create from scratch their own Dreamcatcher Junior show.
Dreamcatcher Junior is developed, rehearsed and performed by the students on the last night of the STC.
Schedule: Summer 2020
Dates: July 6-24, 2020
The three weeks of the program must be taken in their entirety.
Hours: Monday - Friday, 9am to 3pm
Final performance: Friday, July 24, 7pm
Location: Oakes Center in Summit.
Alumni Pricing: $800
(For returning 2019 students registering before March 31, 2020)
Early Bird: $850
(For all other students registering before April 15, 2020)
Regular: $900
(after April 15, 2020)
​
All tuition payments must be received by June 30. After this date, please contact us for availability.
​
Withdrawal and Refunds:
Should you find it necessary to withdraw your child, the following refund schedule will apply:
​
Withdrawal on or before May 1 80% refund
Withdrawal May 1 - June 15 50% refund
​
No refund for withdrawal after June 30.
$30 is charged for any returned checks.
​
New this summer:
Rocket Improv will offer a week-long all-improv camp immediately following DRT JR! A $25 discount off the Rocket Improv price will be offered to DRT JR participants.
​
Dates: July 27 -- July 31st
Time: 9:00AM — 3:00PM
Showcase: July 31, 7:00PM — 8:00PM
Where: The Oakes Center, 120 Morris Ave., Summit, NJ 07901
Fee: $385 ($360 for DRT JR students)